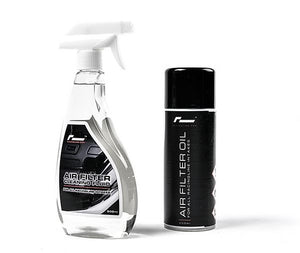 RacingLine Cleaner and Oil kit for foam filter
Regular price $42.00 CAD $42.00 CAD Sale
Kit: 400ml oil & 500ml cleaner
Keep Your foam filter clean for top performance!
We recommend that the filter element is inspected every 16 000km and cleaned if required. This is a simple procedure, and will ensure that your filter continues to deliver the power improvements over a standard car.
Please note that if you do not clean your filter at the above interval, no loss of infiltration will occur, and your engine will still be fully protected. However, the performance advantages from the additional air flow of a clean filter will be lost. You will also shorten the life of the filter element.